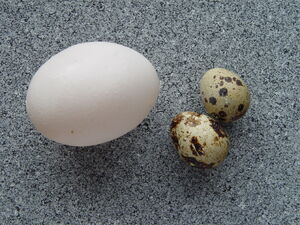 An Æȝ (mnf. Æȝer) is rund oþþe oval Bodiȝ, gemakt fram þem weiflicen Dier maniger Dierkynde. Þis is of ovum umgangen fram Gelagen Filmenne and aner yterren Scielle, þe þat growende Embryo and seinen Afœdungshord fœdeþ and wardeþ. Þie mæsten ettendlicen Æȝer, eak Fugelæȝern and Scilddrageræȝern, sind of wardender, ovaler Æȝscielle, þem albumen (Æȝhweit), þem vitellus (Æȝȝolk), and syndrigen þynnen Filmennen. Ælc Dæl is to etten, þeahþe þie Æȝscielle is gemænst weȝgeworpen.
Ad blocker interference detected!
Wikia is a free-to-use site that makes money from advertising. We have a modified experience for viewers using ad blockers

Wikia is not accessible if you've made further modifications. Remove the custom ad blocker rule(s) and the page will load as expected.